"This morning I stood at the precipice of either spending the next fifteen years-to-life in prison or finally going home to my family. Goldman McCormick PR is a big reason why I'm going home to my family." – Nick Hillary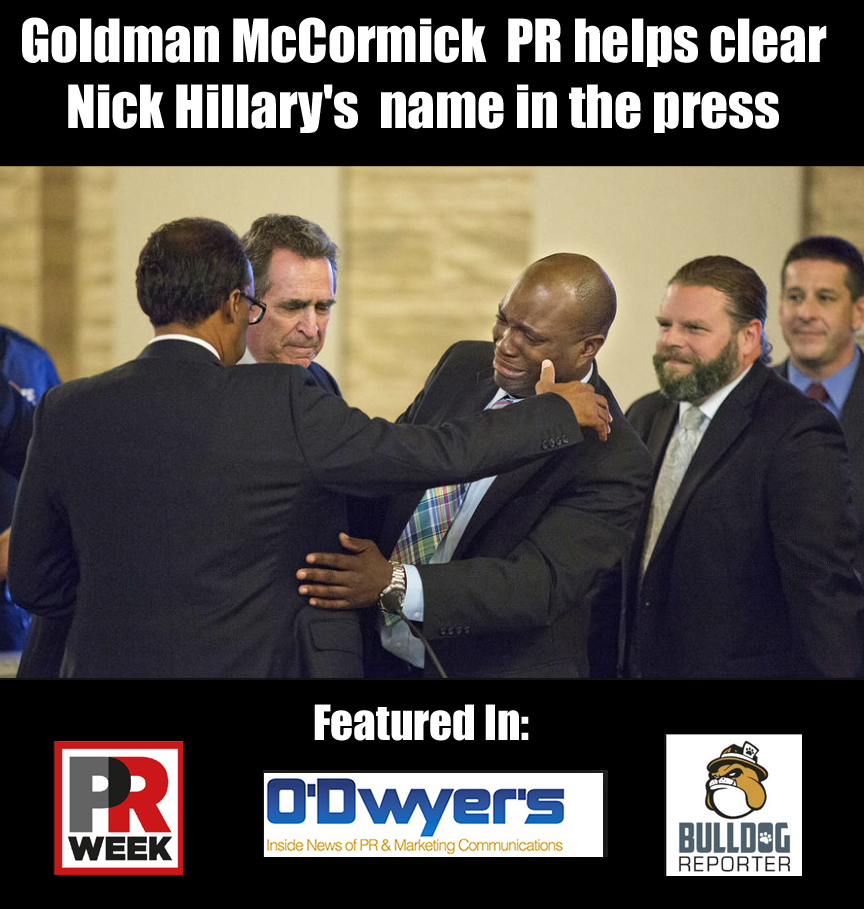 Goldman McCormick helps clear Nick Hillary's name in the press
September 30, 2016 by Alison Kanski / PR Week
Hillary was found not guilty on September 28th of murdering 12-year-old Garrett Phillips in upstate New York in 2011.
NEW YORK: Goldman McCormick Public Relations is working to clear the name of Oral "Nick" Hillary, who was found not guilty this week of murdering 12-year-old Garrett Phillips in upstate New York.
The agency worked closely with the media to draw attention to the case and spread information about Hillary and the investigation. The case in Potsdam, New York, a town with fewer than 10,000 residents, got national media attention.
The agency was approached a year and a half ago by one of Hillary's lawyers, who asked for help getting the word out about the case, said co-founder Ryan McCormick. Since then, the agency placed Hillary on radio stations and in local newspapers. It also created a website with information about the trial and counseled Hillary's lawyers.
However, a breakthrough came when The New York Times ran a five-page feature on Hillary and the case in March.
"When [The New York Times story] happened, there was a lot of other media interest and the public interest in the case increased dramatically," McCormick said. "Our media efforts really put the facts out there. We had a counterbalance by putting out consistent information [on the website], so anyone in the media could come and see the facts."
Hillary was found not guilty on Wednesday of murdering Garrett Phillips, the 12-year-old son of his ex-girlfriend, in 2011. Hillary had waived his right to a jury trial. Supporters of Hillary said race was a factor in the case.
"Previously the media was completely on the side of the district attorney and not giving [Hillary] the benefit of the doubt," Goldman said. "He was the only African-American in this town in upstate New York. They figured there was a crime, so let's pin in on him."
The website played up Hillary's history as a veteran, high-school teacher, and coach, while also pointing out gaps in the murder investigation. Goldman McCormick also raised nearly $50,000 for Hillary's legal expenses through the website and secured time for Hillary on Dateline and 20/20 on Friday.
"Our PR efforts really turned the media around from hating this guy to liking this guy," Goldman said. "It really shows the power of PR."
Read more at http://www.prweek.com/article/1410794/goldman-mccormick-helps-clear-nick-hillarys-name-press#AVBvEO3uGeoVpcdW.99
RELATED COVERAGE
Goldman McCormick Credited with Helping Nick Hillary Get Exonerated After Being Accused of Murder
https://www.bulldogreporter.com/goldman-mccormick-credited-with-helping-nick-hillary-get-exonerated-after-being-accused-of-murder/
O'Dwyers: PR Firm Fields Media Relations in Murder Case Oct. 3, 2016
http://www.odwyerpr.com/story/public/7651/2016-10-03/pr-firm-fields-media-relations-murder-case.html