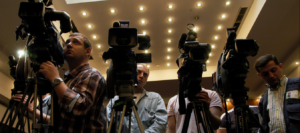 If you're preparing to speak in front of an audience, you might want to consider the media training New York, NY businesses trust from Goldman McCormick PR. When you're not comfortable in a situation, your body language, tone of voice, or ability to remain focused could be hindered. New York media training sessions could help you to avoid these problems and prepare for interviews and live presentations in front of audiences of all sizes.
When working with our clients, we remain sensitive to the discomfort and vulnerability that may be displayed during live media sessions. With this is mind, we take a proactive, positive, and steady approach to our training. We offer feedback and refinement advice to enable clients to reach their goals. By the time you're required to speak, you'll be prepared to deliver a clear message which remains focused on the desired outcome.
Eliminate Your Fears of Speaking with a New York Media Training Service

Speaking to the media is not like speaking to a friend in a coffee shop. With media interviews, you may have very little control over how your words are presented to the audience. The last thing you want is to be misquoted or misrepresented because you were not prepared. By taking media training in New York, NY you can:
Learn to gain control of yourself
Reduce your fears
Be more confident
Become convincing
Get out the exact message you want into the media
To find out more about media training New York, NY professionals may benefit from, contact Goldman McCormick PR.
Do I Need Media Training New York, NY Can Provide?

You may feel like you're able to give a good speech. Perhaps you were commended for your ability to speak in front of your class during your university career. While having this experience can be beneficial, it is often not the same as speaking professionally on behalf of a business or organization.
Here are a few reasons why you might consider media training New York, NY respects:
Connect with Your Audience. A common issue addressed during media training in New York, NY is being able to connect with your key audience. Many professionals feel overwhelmed by the number of media platforms available today and they aren't sure which one will help spread their key message effectively. With media training New York, NY professionals turn to, you can begin to evaluate how to best reach your target audience.
Communicate Your Message Effectively. Communicating effectively and clearly is an essential part of media training. Everything from your body language to your choice of words can play a role in how your message comes across to viewers.
Respond to Difficult Questions with Confidence. Many professionals have had experiences when they were caught completely off-guard by a tough question. For some individuals, these bad experiences make them hesitant to step in front of a camera again. Knowing that you can answer any questions with ease — even the most difficult ones — will help you remain calm and confident.
Keep Your Composure. This is one of the key reasons why professionals seek outmedia training New York, NY business owners trust. Losing control of your composure during an interview is a sure-fire way to attract negative attention. When you maintain control over your tone and your emotions, you're able to appear more professional and polished.
Avoid Being Misquoted. Feel like you're always being misquoted after an interview? This may be because your answers aren't as succinct or as catchy as they need to be. The clearer your answers are, the less likely you'll be misquoted.
If you're drawn to any of the reasons listed above, media training might be the perfect solution for you — and Goldman McCormick PR may be able to help.
What Does Media Training Entail?
If you're thinking about signing up for media training New York, NY businesses rely on, you probably want to know what you're getting into. At Goldman McCormick PR, we work closely with each of our clients to craft media training sessions that reflect their own unique needs.
In general, many media training workshops include the following steps:
Understanding the Media. In order to portray your brand (or your client's brand) effectively in the media, you first have to understand how media outlets operate. Media training New York, NY residents know and trust should help you understand the inner workings of the media outlets that you interact with.
Practice. As the saying goes, practice makes perfect! One of the most important aspects of media training New York, NY can provide is being able to practice your new skills in real-world scenarios. Whether you're expecting to do a lot of TV interviews in the near future or you often find yourself answering newspaper questions, you'll want to know that your skills are polished and perfect. We're happy to work with you to create scenarios that you're likely to experience in real life.
Receiving feedback from trained media evaluators. What's the point of practicing if you don't know how you can improve? Our trainers are experienced with virtually every media platform on the planet today; we've seen both the good and the bad. We're capable of giving you feedback on every aspect of your media presentation and helping you adjust your persona as necessary.
NY Media Training with Goldman McCormick PR

All of our clients, whether executives, thought leaders, authors, celebrities, lawyers, officials, or athletes, are conducting some kind of business. Even if they don't match the standard business persona, business is a core element of interviews and presentations. Through thoughtful planning and careful consideration, our trainers may help clients to understand and reach their desired positioning.
If you're looking for assistance in fine tuning your message, persona, and behavior so that it's in sync with your career, Goldman McCormick PR would like to speak with you. To find out more on media training New York, NY offers, please call us now for a free consultation at (516) 639-0988.