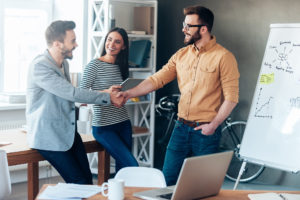 An international PR firm is one of the best partners your organization can have in making sure you are getting your message out to the public. At Goldman McCormick PR, we have built a stellar reputation as one of the top-notch international PR firms in the industry, and have more than 10 of years of experience in the public relations and media industry fields.
PR vs. Advertising
Many companies assume that the best way to get their "message" out to the public is by advertising – whether through television, radio, news publications, or other avenues. And although advertising is an effective way to tout your product or service, the bottom line is that the public knows that it is an advertisement that your company or organization paid for.
Research has shown that when the public reads or hears about an organization through the news media, they are more open to believing what they are reading or hearing is an unbiased report because the organization did not pay for it. But how does an organization go about getting positive coverage from the news media?
This is where an international PR firm like Goldman McCormick PR comes in.
The team at Goldman McCormick PR has built excellent relationships with multiple news media outlets, including local, regional, national, and international, on multiple platforms, like television, radio, newspapers, magazines, podcasts, and blogs.
Our international PR firm arranges for our clients' bookings on television and radio programs, as well as the opportunity to host their own radio programs and podcasts. Our organization has fantastic working relationships with newspapers all around the country and can arrange placement of op-ed features, either written by you or someone from your company, or we can also provide professionally written articles to be placed.
Other Services We Provide
In addition to aggressive media relations and media exposure, our international PR firm also provides press release services when your company has an announcement or statement to make. We offer both written and video press release options.
Goldman McCormick PR can also organize all press conference and other media events, including planning the event, inviting media, and helping you craft the message you want to get out to the public.
Not everyone is naturally comfortable speaking with the media, or a person may be comfortable but would like tips on the best way to effectively manage a media interview and be effective at messaging. We offer media training that can show you the techniques to do all that and more.
Our international PR firm also offers reputation management services to ensure that the public sees your organization only in the most positive light. Whether it's being proactive and eliminating any potential damaging online content or your company is facing a crisis and needs immediate action, Goldman McCormick PR has the experience and dedication to navigate you through the crisis as quickly and efficiently as possible.
Contact Goldman McCormick PR for Assistance
Whether you are steering the ship solo or head of a large corporation, Goldman McCormick PR can help you get the right message out to your target audience. If you would like to find out more about all the services we offer, call (516) 639-0988 today. We would love the opportunity to meet and share how our international PR firm can help.