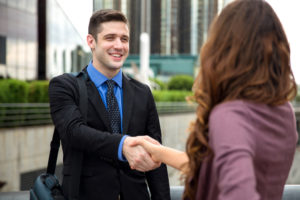 Are you ready to hire a premiere public relations company New York, NY has to offer? If so, contact Goldman McCormick PR today. Since 2010, our agency has successfully promoted clients and helped them receive positive publicity from a variety of media sources. When you need a top-notch New York public relations company, look no further than Goldman McCormick.
Let a Public Relations Company New York, NY Clients Trust Put You on the Map
Are you tired of struggling to get your brand on the public's radar? Focusing on day-to-day business responsibilities as well as trying to handle public relations can be overwhelming. For this reason, many people who try to wear numerous hats are unable to reach the level of success they would like to achieve.
Maybe you have already hired a public relations company in New York, NY but they just don't have the experience or connections to get you to where you need to be. We can help.
The founders of Goldman McCormick spent years working in media, including producing national and local radio programs, before establishing their PR company. Our team has maintained and grown a long list of key media contacts. This gives us the edge in the promotion of our clients over many other PR agencies who don't have a media background.
Services Our Public Relations Company New York, NY Entrepreneurs Recommend Can Provide
The PR team at Goldman McCormick offers multiple avenues of publicity for our clients. These include:
Traditional Media: No matter how many online options the public can choose from, they consistently turn to the big three for information: television, radio, and newspapers. We consistently book our clients on national cable and local news programs as well as top national talk show radio programs. More than 500 million people read print and online newspapers every day, making newspapers a critical component in any PR push. We can provide press releases, interviews, and even write editorial/op-ed articles about you and your brand.
Press Conferences: Whether you have a new product or another newsworthy company announcement, Goldman McCormick can arrange a press conference to help you get the word out. We take care of all the planning, managing, and media invites. We also provide you with the right tools, introductions, and experience to ensure effective communication with the media.
Your Own Radio Program: What better way to get your brand out to the public on a regular basis and build up a loyal following than with your very own radio program? Our team can produce, edit, book guests, and publicize your own radio show. Your show can be accessible via iTunes as well as other outlets and be embedded in your website.
Call a Premiere Public Relations Company New York, NY Media Trust
If you're ready to take your business to the next level, contact Goldman McCormick today. We can meet and discuss what your business goals are and the different ways our company can help you reach those goals.
Contact a public relations company New York, NY provides today at (516) 639-0988 or (516) 901-1103 to set up a free consultation.